Reposted from School's Out Washington's blog – originally published March 4th, 2021. Thank you for this beautiful piece!
In February 2020, the Best Starts for Kids Out-of-School Time Initiative (BSK OST) was heading into its final year of implementation. Then COVID hit, and communities across King County (and the world) were left scrambling to support each other through unimaginable challenges. Youth development workers navigated alarming funding cuts, rapidly changing safety protocols, school closures and the creation of virtual learning strategies, and the profound trauma their youth, families, and staff teams experience. A spotlight is now on the unique and vital role our field plays within the landscape of our communities—it's never been more apparent how much our work matters. The programs who make up the BSK OST cohort rose to the challenge, and found meaningful, responsive, and innovative ways to support youth throughout this crisis.
Recognizing that programs would need to dramatically shift their programming strategies, SOWA and [Best Starts for Kids] King County adjusted our funding model so programs could shift their programming and reallocate funding to meet emerging needs in their communities.
Many organizations turned to community and youth as they experimented with new types of programming, trying to figure out what best met their needs. In response, some organizations moved to a case management model to provide tutoring or wrap-around services and basic needs support, such as food, utility assistance, and personal protective equipment (PPE). Others addressed barriers to online learning and engagement in programming by distributing tablets and Wi-Fi hotspots to families that had limited access to tech and stable internet.
Some programs focused on academic supports by creating safe learning environments at their program space or providing items like headphones or desk chairs. Some programs stayed open for in-person programming opportunities for those who most need them, or provided some socially distant opportunities for youth to gather. And many programs continue to provide the meaningful arts and cultural programs young people need to enhance their academic learning – often by providing hands-on learning kits so that youth make art, try gardening, and experiment with STEM projects all from their homes.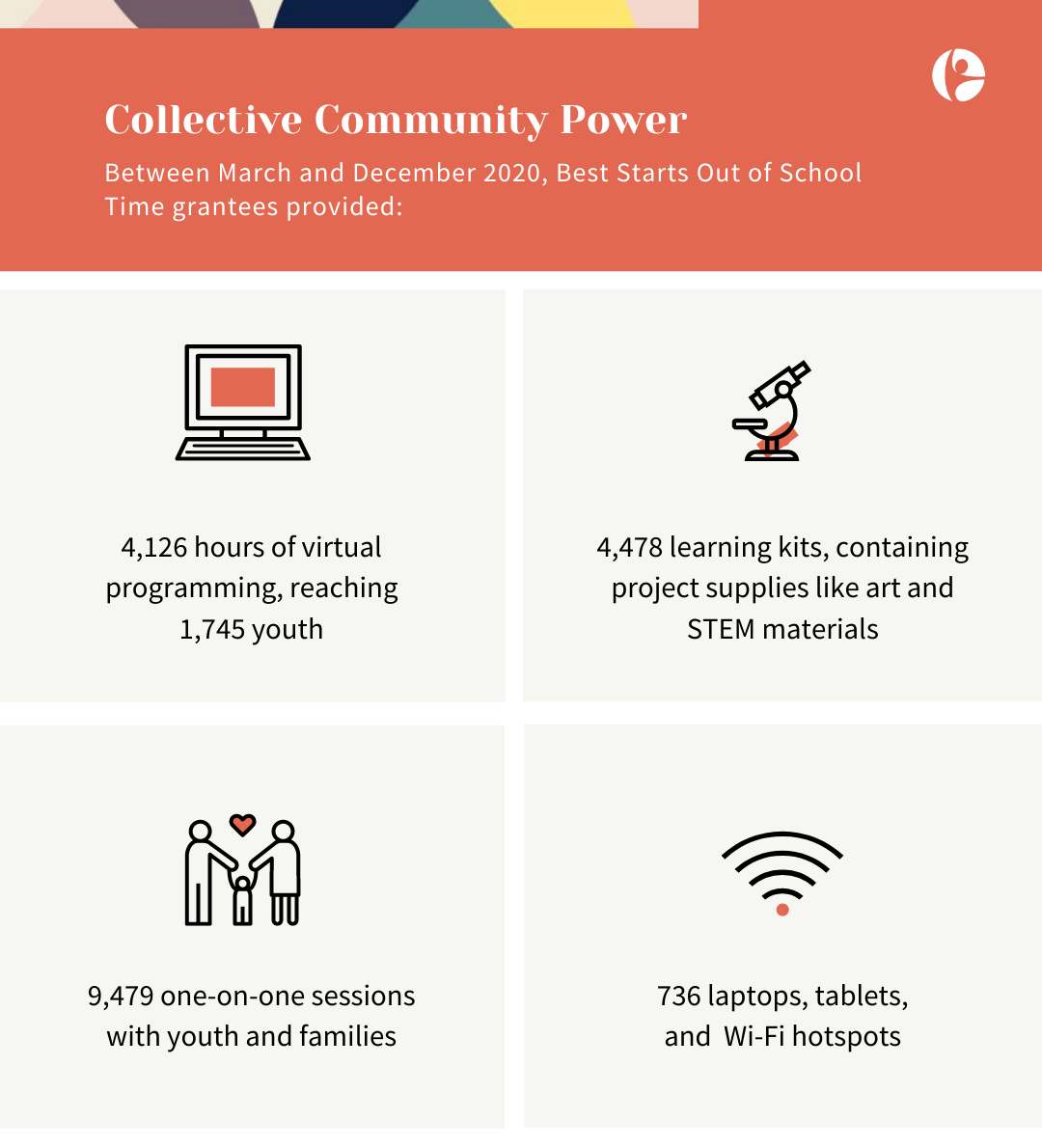 With the school closures, the After School Program shifted to 1:1 programming. Many families wanted to have their children continue with learning but the parents could not always access school-based activities or provide these to the children. Many of the families who get services through the IRCCW were struggling to meet their basic needs to have sufficient food, pay rent, and earn some income. Parents were focused on trying to apply for benefits if they were eligible or to apply for financial assistance. The IRCCW After School Program was offering food and materials to the families as well as providing tutoring help to the students to keep them stay engaged in learning.

Iraqi Community Center of Washington
Some of the seeds planted throughout the BSK OST initiative helped carry organizations through all the changes they've experienced this year. Partnerships and informal relationships built over the last three years supported collaboration, nimble changes to programming, and shared learning. Within many place-based collaboratives, existing trusted partnerships allowed programs to quickly communicate and operate in alignment to meet the needs of youth and families. Throughout the pandemic, SOWA has provided learning community opportunities to bring providers together to share what they were doing and support each other.
Multiple years of funding has really enabled us to grow that trust relationship with families and students and with our partners. I think it was really key to us being able to pivot so quickly in March.

STEM Paths Innovation Network, member of the Northgate Collaborative
During the pandemic, many BSK OST programs have focused intentionally on providing social and emotional supports to youth who are isolated from their peers, with disrupted routines, and limited access to supports outside the home.
"Our sessions have check-ins to make sure we know what the social-emotional status is for each student, so we can work from there. We try to think of what is the best way to try to energize our kids?"

Chinese Information and Service Center
We're really just making sure that they're still receiving those social and emotional supports; that they know that they can come to a culturally relevant environment and feel safe because I think that's really important now because there's so many things out there that are unknown and scary for our kids.

Life Enrichment Group
Moving into 2021, the SOWA Best Starts OST team is excited for another year of learning with our amazing cohort of providers. We're looking forward to continuing our professional development training, coaching, and assessments with the cohort to wrap up what will be four years together with more intention than was possible in 2020. Our team is grateful to support programs that ensure the youth in King County are happy, healthy, safe, and thriving.